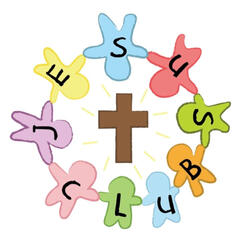 Jesus Club
Because Everyone Matters To God
Jesus Club seeks to be a community of God's people - with and without disabilities - gathered around His word, sharing deep bonds of fellowship in Christ, and serving one another in love.Find out more at our official website: jesusclub.sg!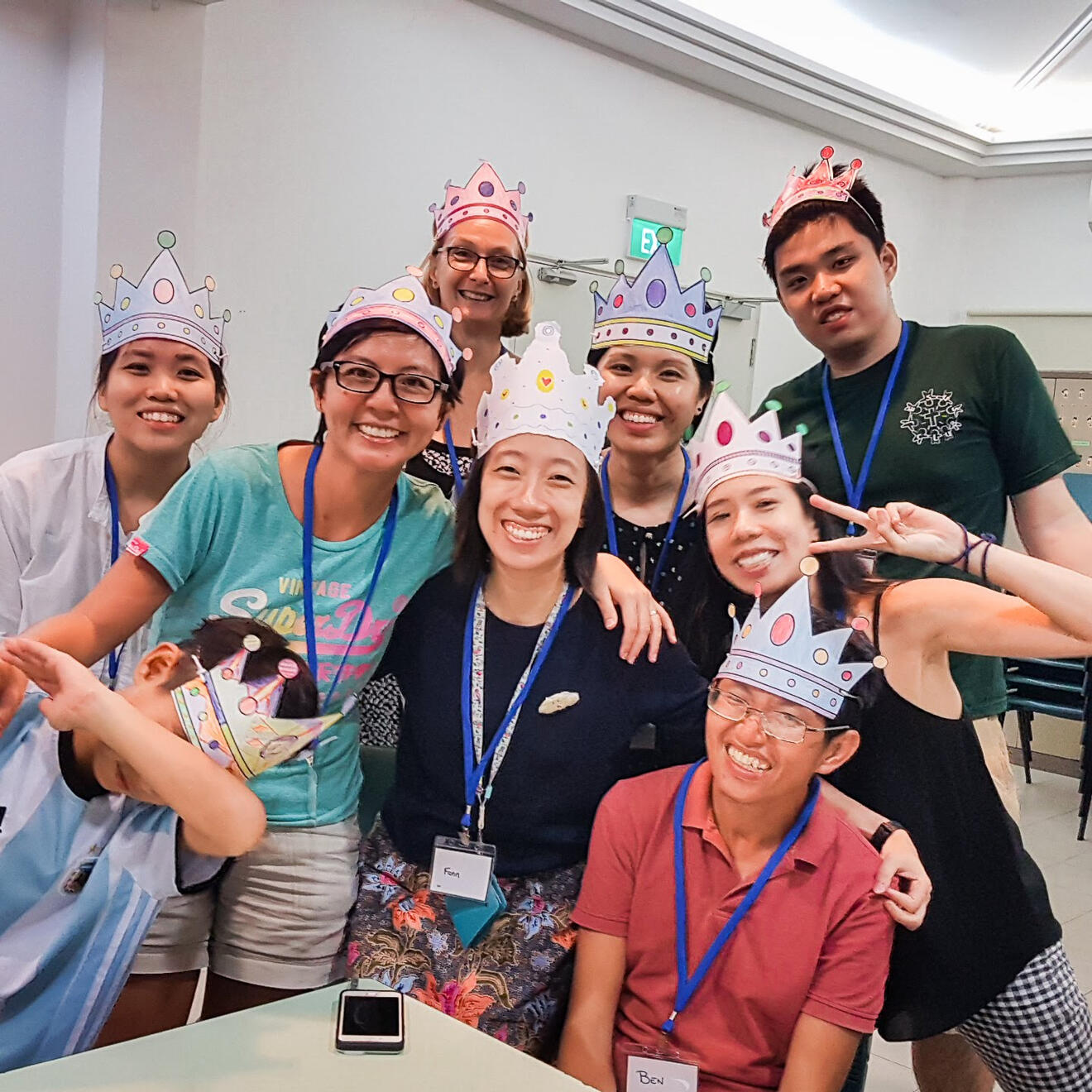 October 2022 Update
---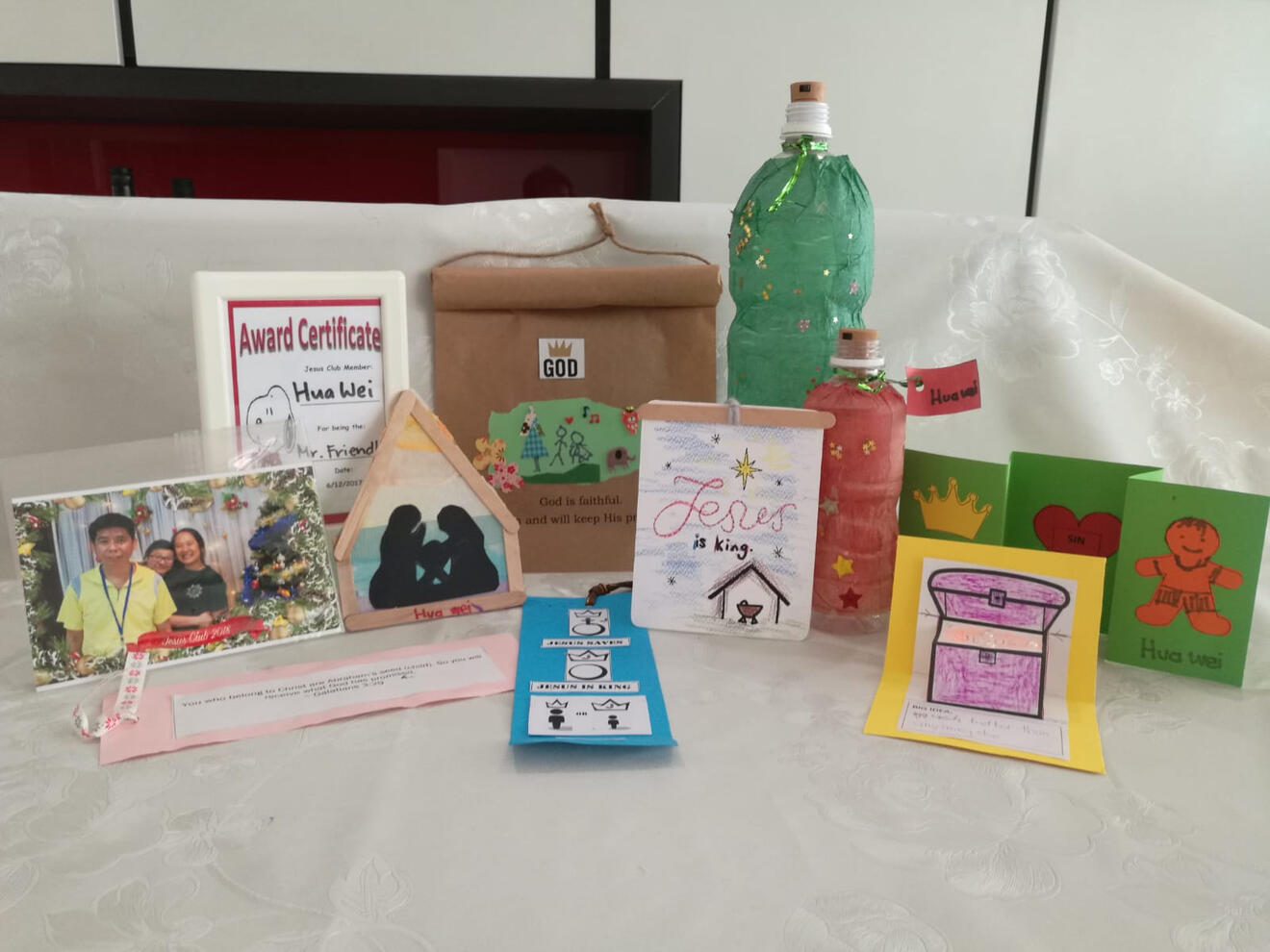 Huawei's craft display
A 'crafty' look back on 2022
At Jesus Club, we strive to teach all of the Bible in ways that persons with intellectual disabilities (ID) can understand.Persons with ID tend to have difficulty retaining or remembering information, and so, in our meetings, we repeat the main point of the Bible talk throughout the programme. The songs, small group discussion, craft or game all serve to reinforce the main teaching point.Making craft, therefore, is not merely a time-filler but a purposeful activity. When brought home, the craft also serves as a visual reminder of what we've learnt. One of our members has a dedicated space in his room where he displays all the craft we make at Jesus Club!Here's a snapshot of what we've learnt this year at [email protected] through the craft we've made.
---
Series: Journey to the Promised Land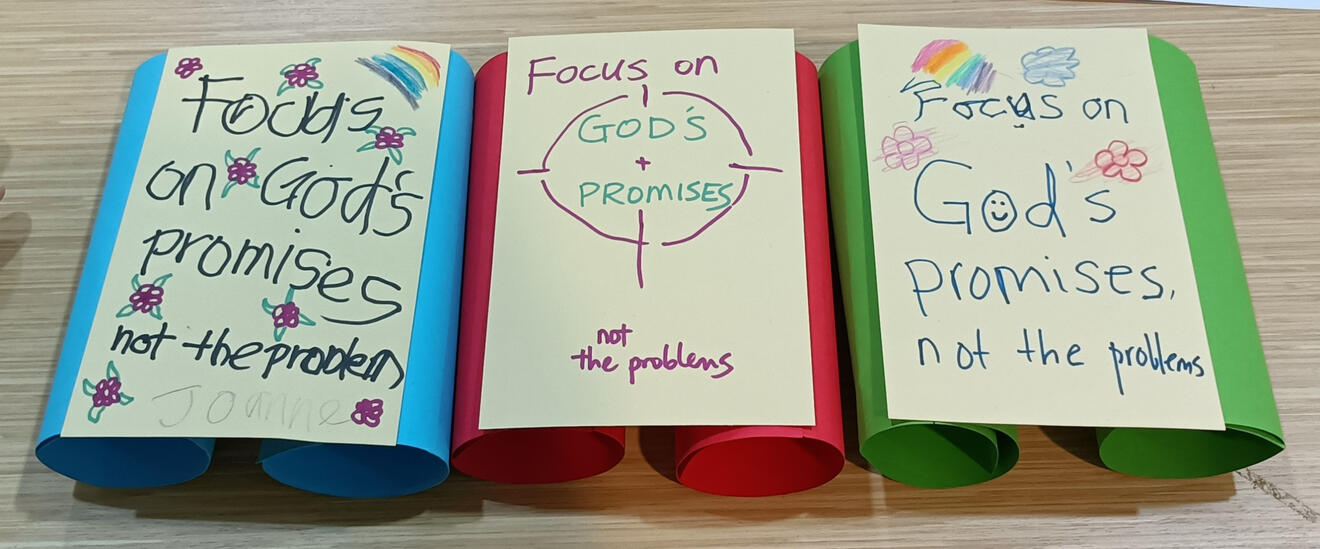 Story: The 12 spies are sent out to Canaan (Numbers 13-14)
Colourful explorer "binoculars" remind us to focus on God's promises rather than our problems.
---

Story: The Bronze Snake Lifted Up in the Desert (Numbers 21)
Just as the Israelites had to look at the bronze snake that Moses lifted up in the desert to be saved, so we have to look at or believe in Jesus, whom God lifted up on the cross, to be saved. A reminder for us to trust God's way of salvation.
---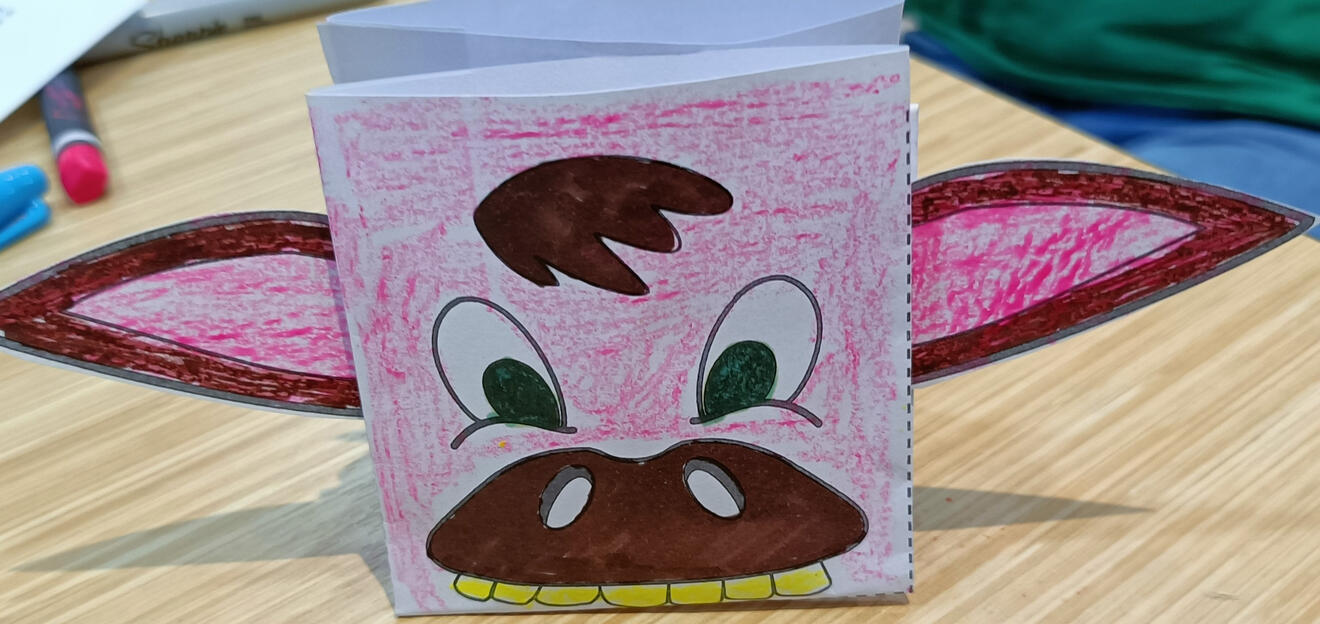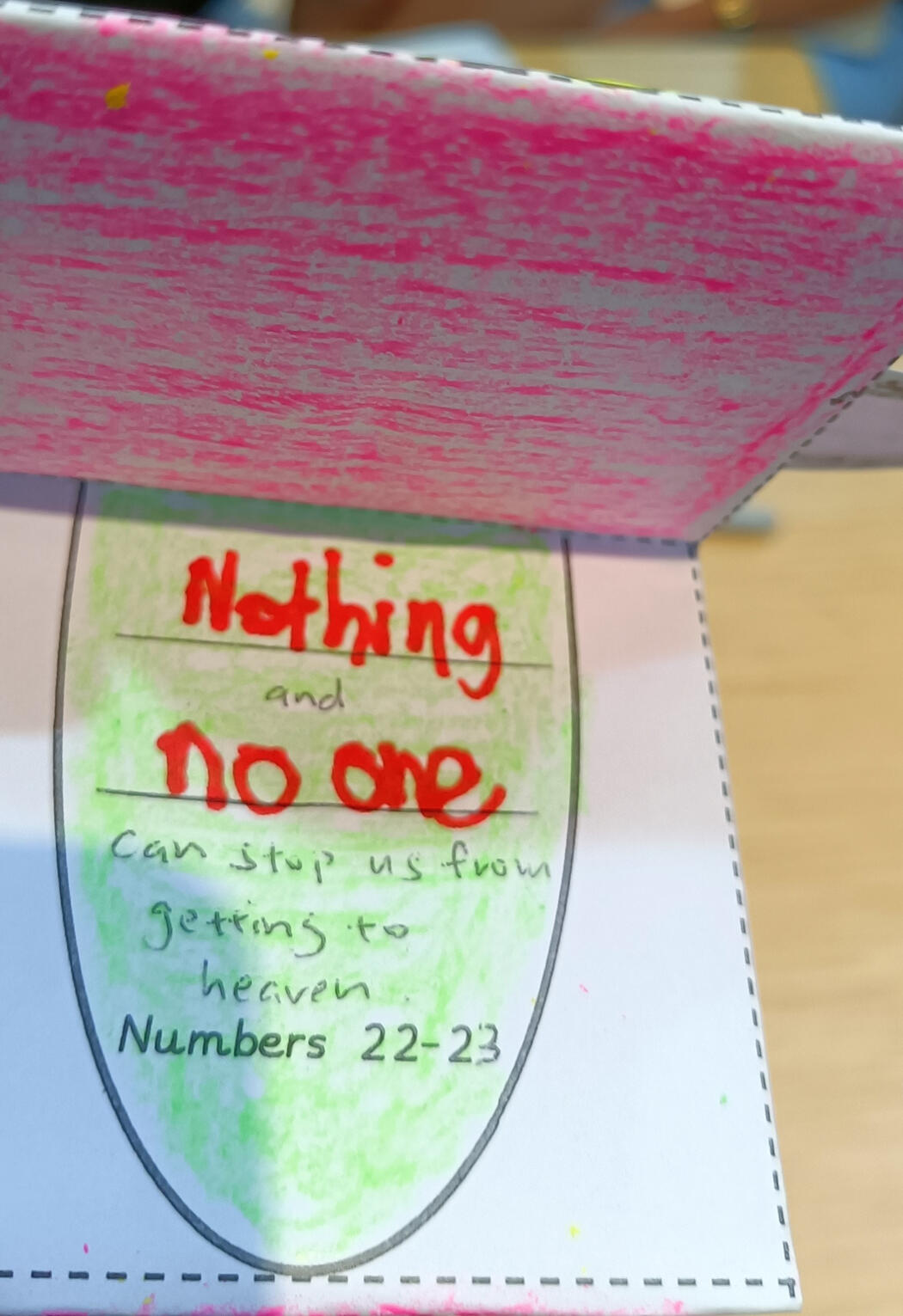 Story: King Balak asks Balaam to curse the Israelites (Numbers 22-23)
God is more powerful than any enemy Israel faced. He even used a donkey to stop Balaam in his tracks.This craft reassures God's people that NOTHING and NO ONE can stop us from getting to heaven.
---
Topic: Singleness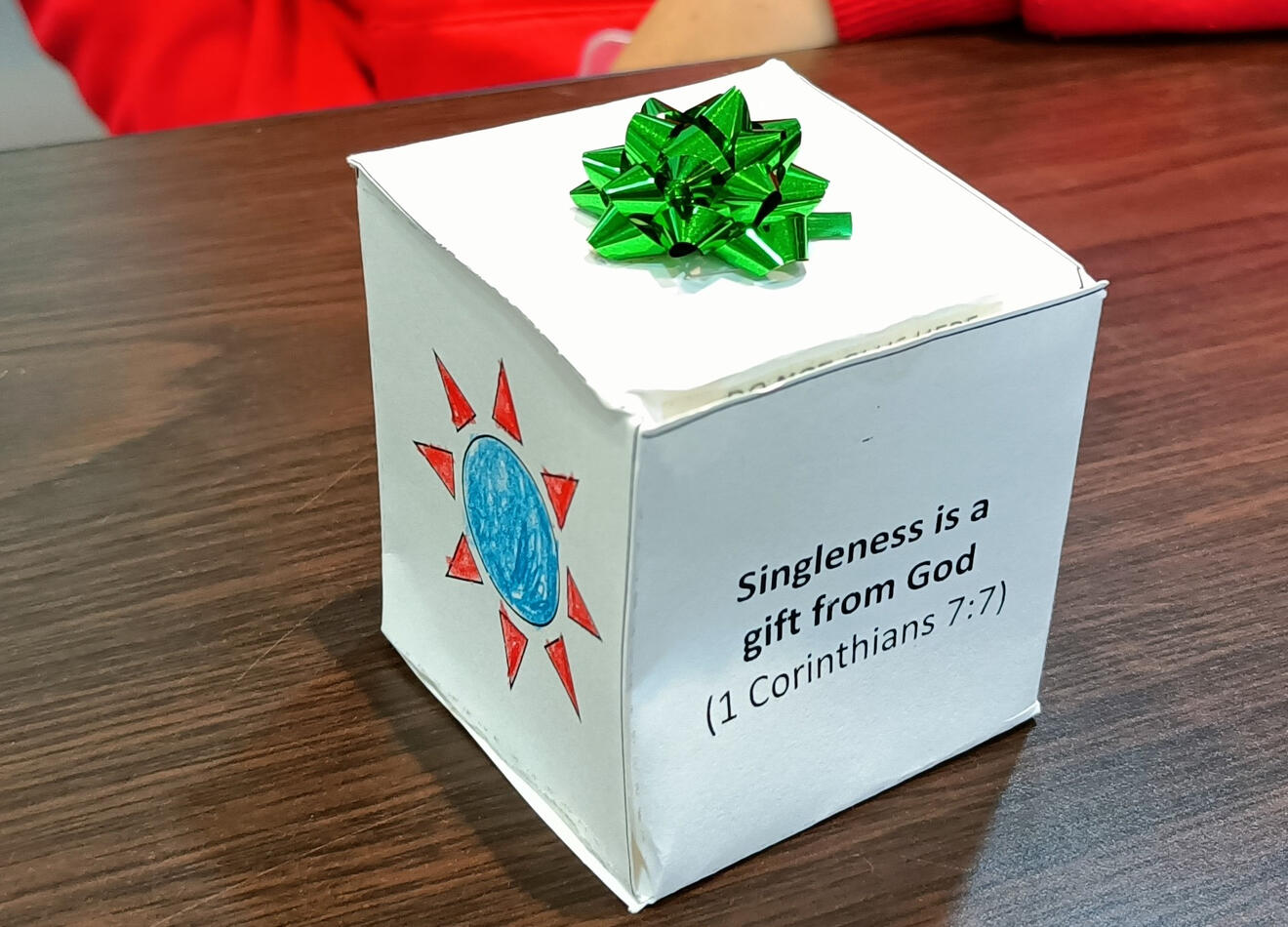 Bible passage: 1 Corinthians 7:32-34
This gift box reminds us that singleness is good because it is a gift from God.
---
Series: Parables of the Kingdom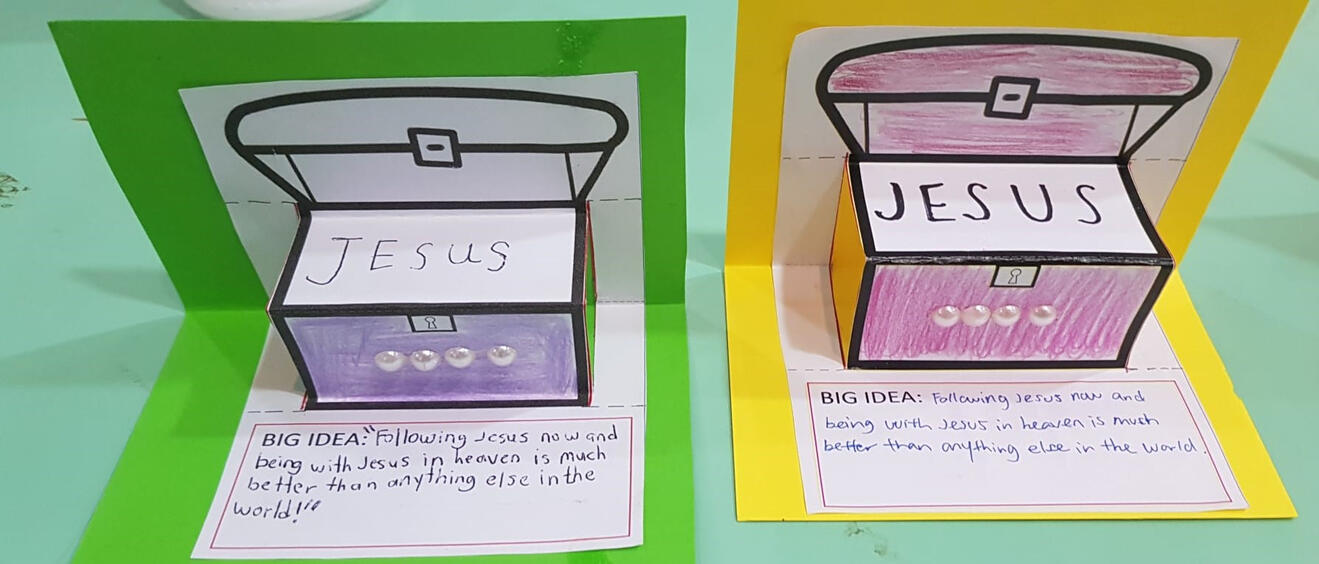 Parable of the Hidden Treasure (Matthew 13:44)
The pop-out treasure box reminds us that Jesus is our greatest treasure.There's nothing better than following Jesus now and being with him in heaven.
---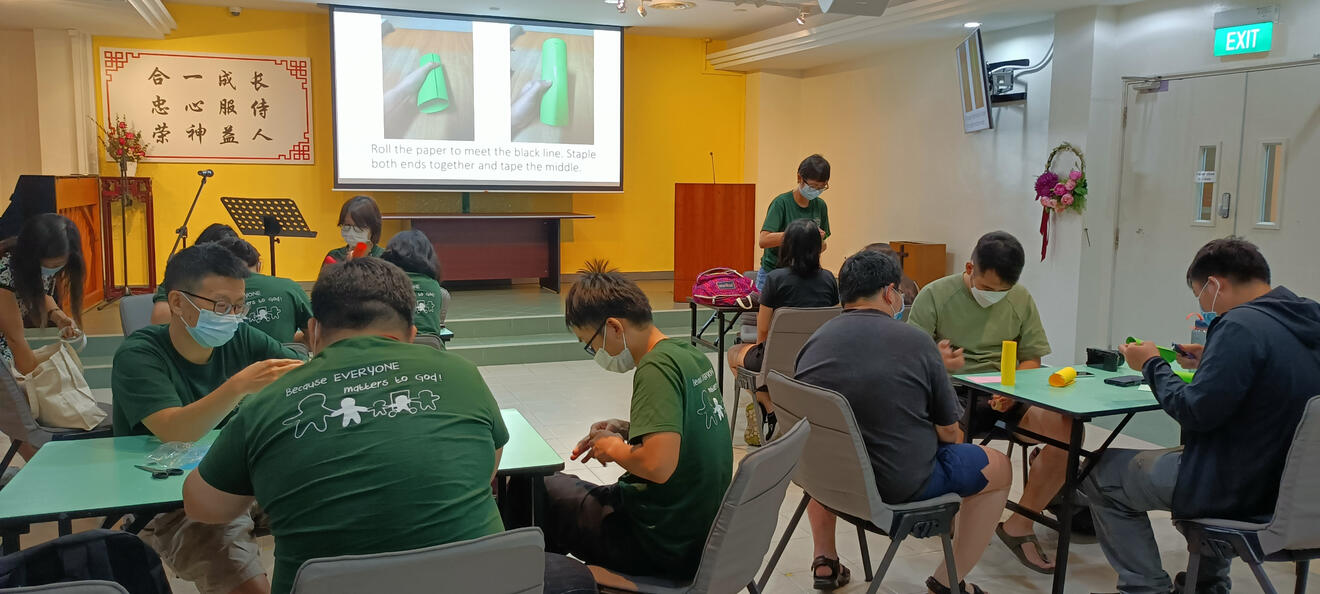 A typical craft session at Jesus Club
---
About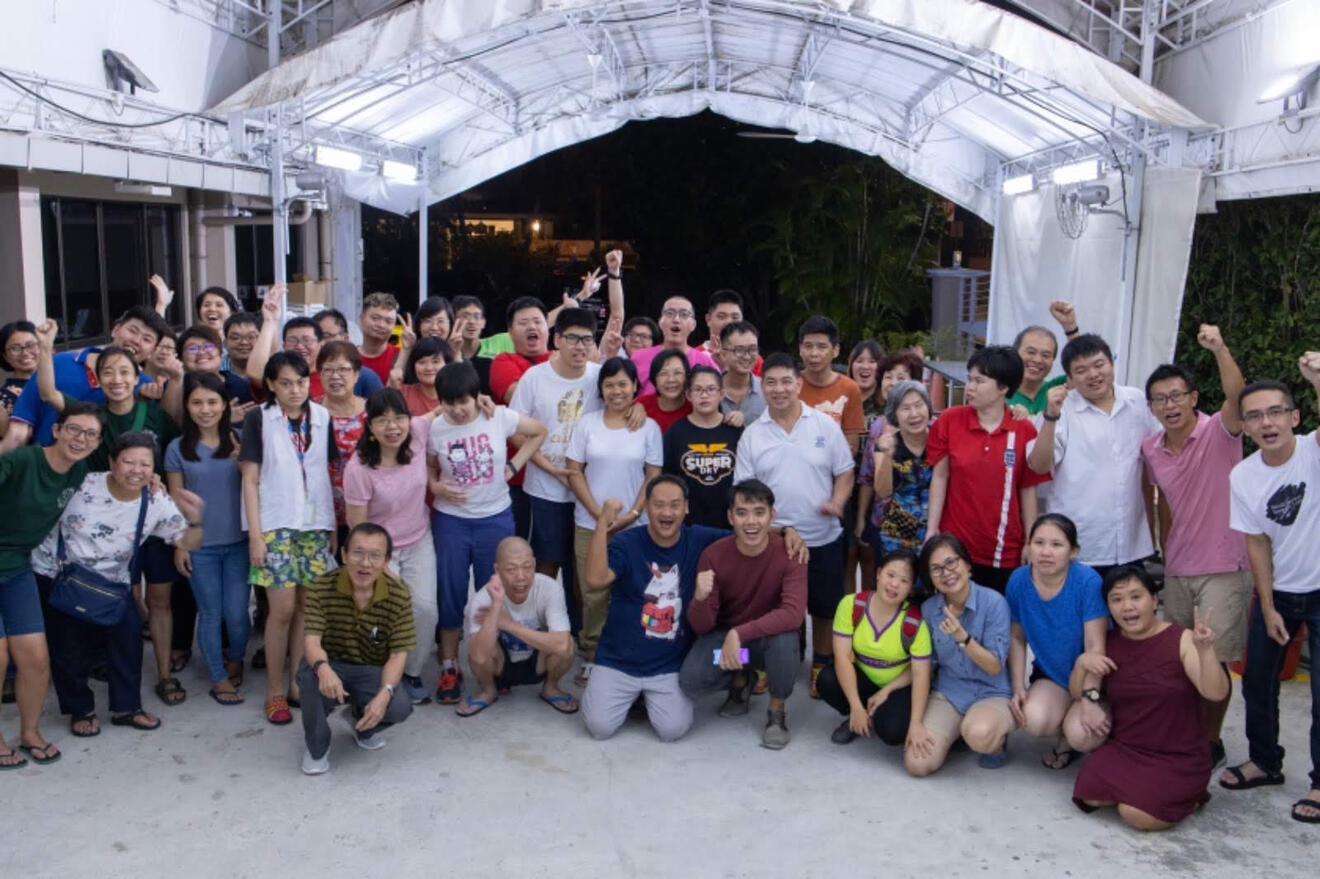 Jesus Club is a ministry for adults with intellectual disabilities (ID) who can no longer fit socially into the children and youth ministries in the church but who find the Bible teaching for adults too fast or difficult to understand.
Vision
Jesus Club seeks to be a community of God's people, with and without disabilities, who gather around his Word, share deep bonds of fellowship in Christ, and serve one another in love.
Mission
To teach the Bible clearly and faithfully so that every member can know God to the extent that he has enabled him/her.To build a community of love for one another as family in Christ.
Goals
1. To use a range of pedagogical methods to help members learn and apply a big idea from the talks during each session.2. To have activities and attitudes that build community.3. To enable each member to serve according to his or her gifts.
Leadership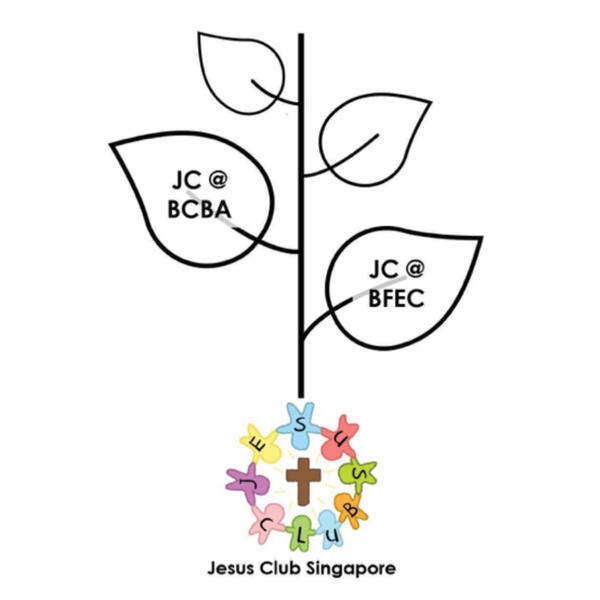 Lincoln and Grace, Fann, Hannah, Jessica, Yvonne
Jesus Club Singapore exists to resource our existing clubs and to plant more clubs in partnership with other churches. Each Jesus Club operates as a ministry of the local church.Lincoln Mao is the pastor at Bethesda Christian Centre. He's involved in Jesus Club because everyone matters to God. He believes that God desires everyone, even those with special needs, to come to know Him as much as he has enabled them. At Jesus Club, he leads a small group, gives bible talks and plans games.Grace Mao is on the staff team at Bethesda Christian Centre. She loves reading the Bible with her friends with special needs and hanging out with them. At Jesus Club, she leads a small group, gives Bible talks, and occasionally leads songs.Fann Tay goes to Bethesda Frankel Estate Church. She works as a farmer at a local social enterprise. She is interested in all persons, and their diversity. She believes there is much we can learn from each other. At Jesus Club, she leads craft activities.Hannah Ling works with youth at Hosanna Baptist Church. She believes God loves people with special needs and that they are a gift to the church. At Jesus Club, she leads a small group, gives bible talks and plays music.Jessica Chow goes to Bethesda Church Bukit Arang. She is a public servant working with new technologies in the maritime sector. She loves Jesus Club because it reminds her of God's perfect wisdom and perfect love for all people, and how much we all need Him. In Jesus Club, she leads a small group and sometimes gives bible talks.Yvonne Lee goes to Bethesda Church Bukit Arang. She works as a psychologist in MINDS. Over the last 6 years, Yvonne has become increasingly convicted that more than inclusion, 'good' behaviour and even 'quality of life', what people with special needs really need is the same as anyone else - the saving work of Jesus Christ for their sins. At Jesus Club, she gives Bible talks, leads a small group and occasionally plans games.
History
Grace volunteered at Jesus Club Gladesville when her family lived in Sydney from 2009-2011. There, she experienced the joy of friendship and fellowship with persons with ID. She also saw how Jesus Club filled a 'gap' in many gospel-centred churches, where the Bible teaching is largely inaccessible to persons with ID.After moving back to Singapore in 2012, she saw the same need to evangelise and disciple the growing number of persons with ID here. She and a few like-minded friends therefore started the first Jesus Club at Bethesda Church Bukit Arang in 2013.
Why We Do Jesus Club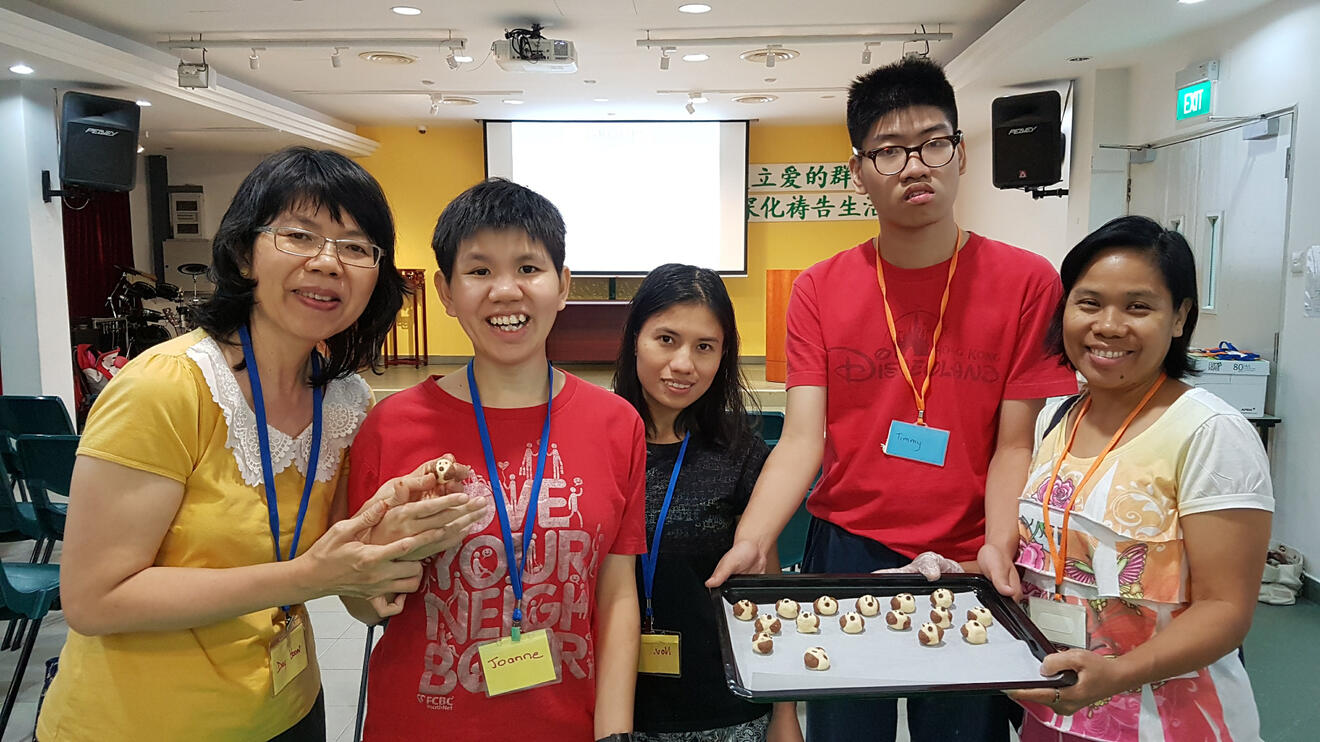 God's view of persons with IDThe Bible teaches that every person, with and without disabilities, is made in the image of God and is therefore extremely valuable to him. God formed each one of us in the womb and knows us personally and intimately. Moreover, contrary to what many in the world believe, persons with ID are "fearfully and wonderfully made" by a sovereign God who makes no mistakes (Psalm 139:13-16). Our friends with ID bear God's divine image and are incredibly valuable to him.God's heart for persons with IDThroughout the Bible, we see God's heart and compassion for the poor, needy and disabled (e.g. Deuteronomy 27:18-19, Psalm 146:9). Jesus' ministry also had a striking focus on the deaf, mute, lame, blind and the broader community they represent (see especially Luke's gospel). God also calls his people to care for those who are vulnerable and marginalised.God's gospel for persons with IDThe Bible declares that all humanity, including persons with ID, are equal in our problem of sin (Rom 3:23) which separates us from God. God's gift of salvation is also equally available to all through faith in Jesus Christ (Rom 3:22). Persons with ID need to hear the gospel like everyone else so that they too may trust in Jesus and be saved.God's Church includes persons with IDAll who are united to Christ through faith are part of his Church. Christ has broken down every dividing wall that separates humanity to unite people in their differences. Persons with ID may be marginalised in every society, but they must find in the church a place where they are valued as equal members of Christ's body. In God's church, each member has a part to play, and has been given a gift from the Spirit to build up the church (1 Corinthians 12:4-7). Greater priority is given to the "weaker" members, who are "indispensable" to the church and ought to be given "greater honour" (1 Cor 12:15-27). The church is poorer off without persons with ID and their God-given gifts!Persons with ID who trust in Jesus belong to the church or the body of Christ. The church must therefore be a place where they are valued as equal members of Christ's body. Since the Spirit has apportioned to every member a gift for the building up of the body (1 Corinthians 12:7), the church is poorer off if it excludes persons with ID and their God-given gifts for the common good.***See this page for further general information on intellectual disability:
https://www.myg.org.sg/intellectually-disable
Join Us!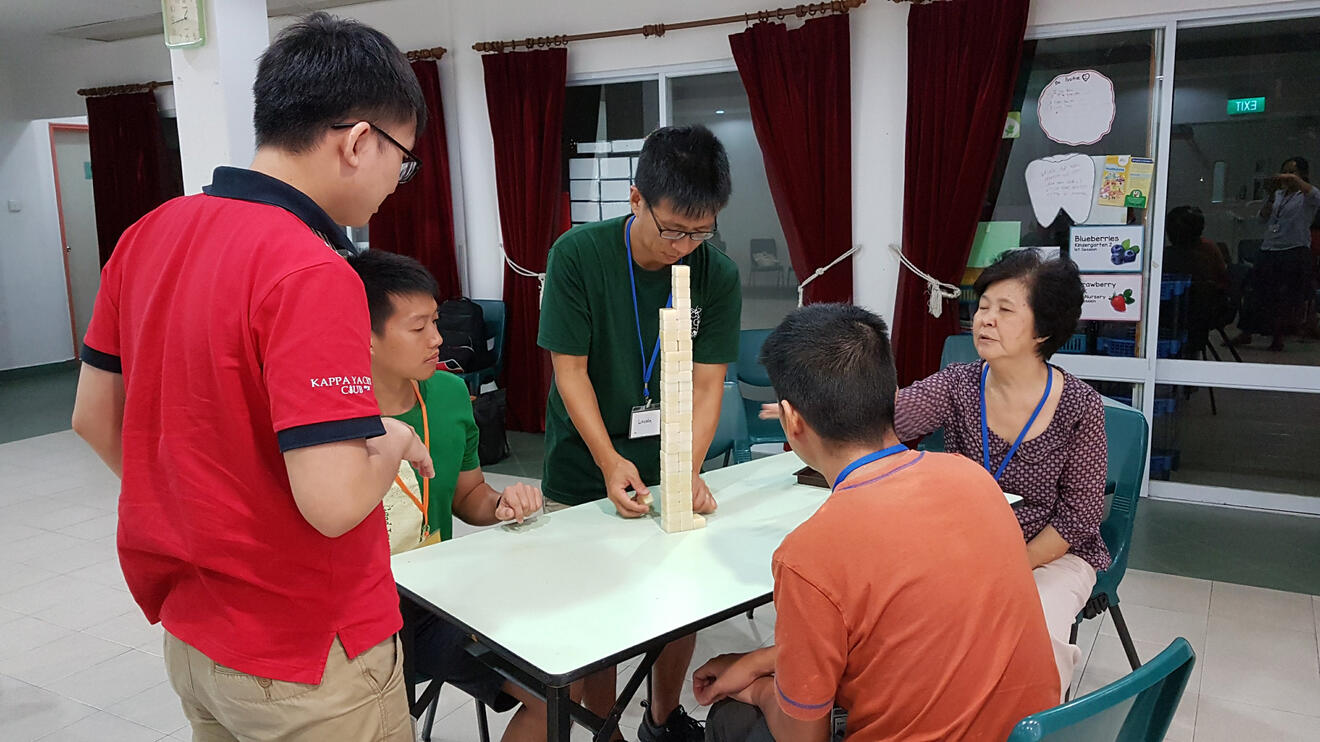 Members with Intellectual Disabilities We welcome both Christians and non-Christians who are open to being part of a Christian community to join us at Jesus Club.What we doJesus Club meets fortnightly. Here's what a regular programme looks like:
- Welcome
- Songs
- Bible talk
- Small group time (1:3 volunteer to member ratio)
- Game/Craft
- SupperAll activities reinforce the main idea from the Bible talk.Other than our regular meetings, each club organises their own socials. The highlight of the year is our Christmas Party, when we welcome friends and family to join in for a night of fun, food and fellowship as we celebrate Jesus' birth!Currently, we have two clubs meeting at Bethesda Church Bukit Arang (Serangoon) and Bethesda Frankel Estate Church (Kembangan) respectively.Due to Covid-19, we have been meeting online in small groups, with occasional big group meetings also over zoom.Where we meetBethesda Church Bukit Arang (Serangoon)- Days: Fortnightly Thursdays
- Address: 114 Serangoon Avenue 3, S(556110) | View on Google Maps
- Access: 8 mins walk from Serangoon or Lorong Chuan MRT
- Parking: In church
- There is a wheelchair ramp and lift access to Level 5 where we gather.
- If you require wheelchair transport, do let us know and we can help to organise transport for you.Bethesda Frankel Estate Church (Kembangan)- Days: Fortnightly Wednesdays
- Address: 4 La Salle St, S(456930) | View on Google Maps
- Access: 10 mins walk from Kembangan MRT
- Parking: In church
- There is a wheelchair ramp to the chapel on level 1 where we gather.Please email us at [email protected] or contact Hannah at 9862 9774 if you wish to visit.
Volunteers
VolunteersIf you're a Christian with an interest in special needs ministry, we'd love for you to come and visit any one of the clubs and chat with a club coordinator before deciding whether or not to volunteer with us. We do not require volunteers to have prior experience interacting with persons with special needs. We get to know our members the same way we'd get to know a family member with special needs.Roles of Volunteers- Caring for group members
- Facilitating group discussions
- Preparing refreshments
- Leading songs
- Preparing a craft or game activity
- Organising socials and birthdaysIf you cannot commit regularly but would like to contribute with your resources or skills (e.g. photography, videography, graphic design, finance or any other skills), we'd love for you to get in touch with us at [email protected]
Volunteer ProfilesJesus Club would simply not be possible without the tireless commitment of our volunteers to love our members with special needs, especially by faithfully teaching them God's Word.Hear from two of our volunteers on they first got started with Jesus Club, and what it's like to be a volunteer.
VOLUNTEER PROFILE: Jeslyn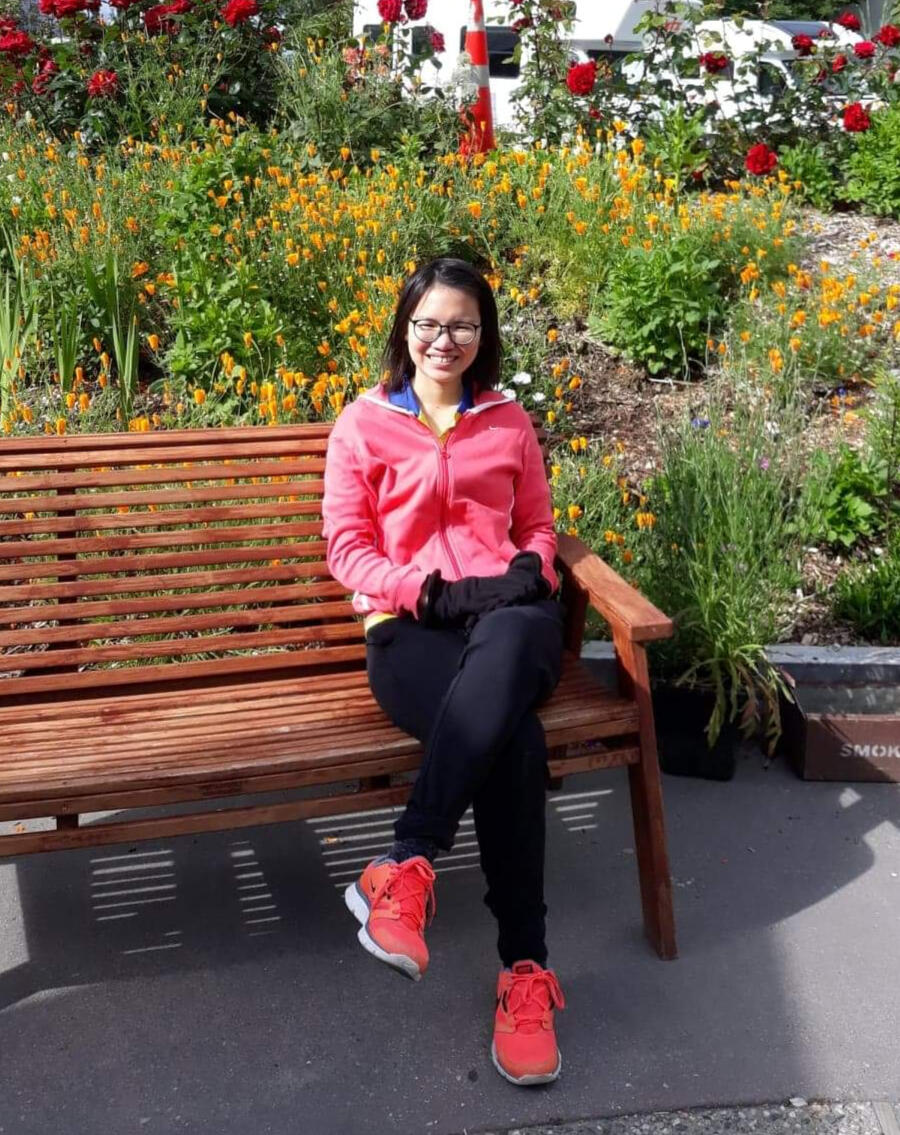 Jesus Club Volunteer: Jeslyn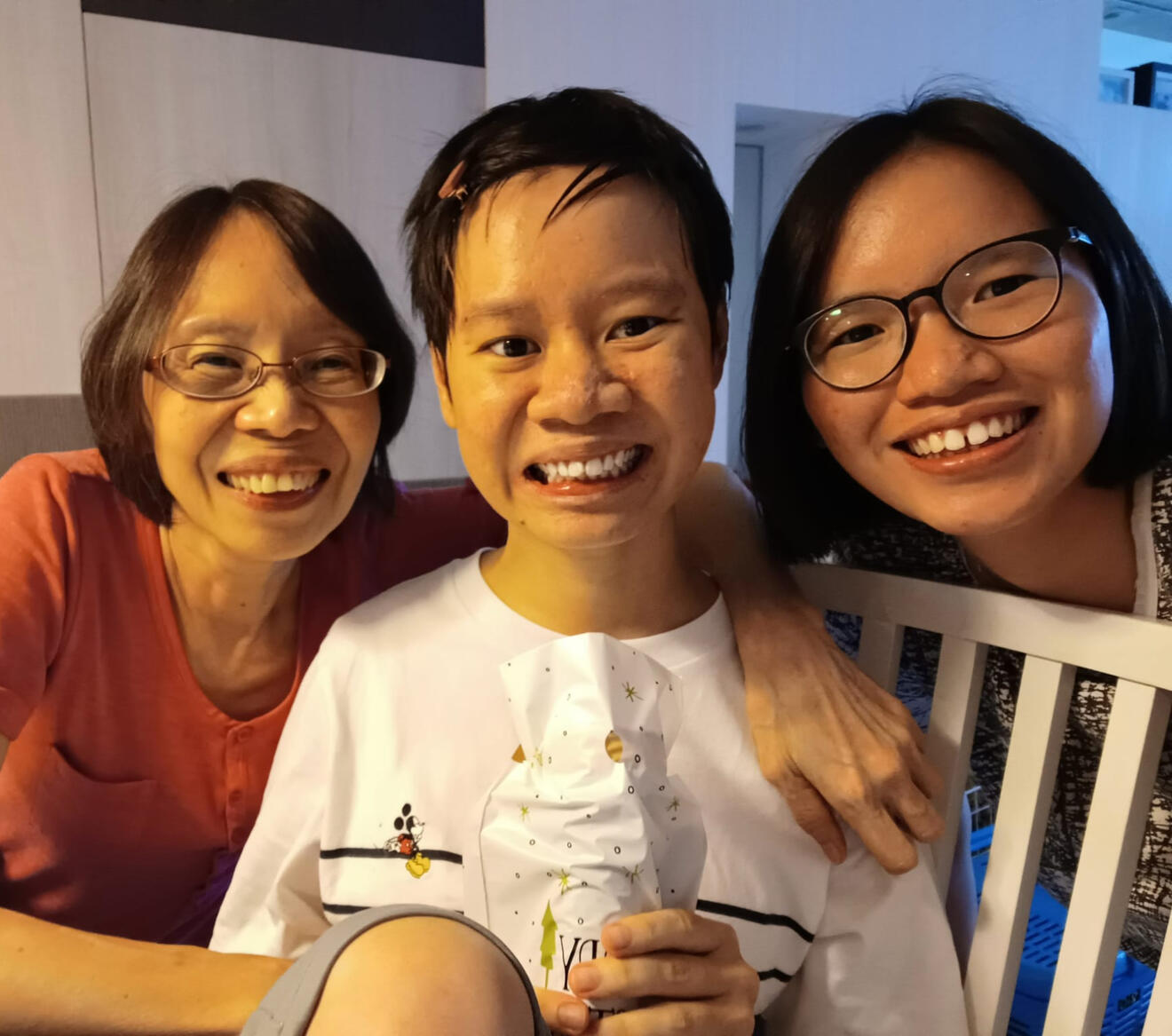 Siew Gek (Dora's mother), Dora and Jeslyn (left to right)
How did you first come to know about Jesus Club?In 2019, I was looking for an opportunity to serve in church. At the same time, JC was recruiting volunteers for a social, which was a bowling event. Subsequently, I started attending the fortnightly sessions and that's how I've ended up here.How long have you been serving with us?It has been 2.5 years since I started serving with JC.What do you do at Jesus Club?At a typical JC session, I would engage the members by going through the Bible talk with them, sharing who Jesus is, and praying with them!What do you love most about it?I truly enjoy the Bible talks because God's Word is being taught with simple illustrations, which are helpful for my heart that is often prone to wander. The talks also remind me that the gospel is meant for everyone, and it truly has the power to transform a person's life!What has God taught you through your friends at JC?My friends at JC have inspired me to know and love Jesus more! They have shown me what it means to have childlike faith, and I'm often rebuked by my sinful thoughts thinking that I am 'serving' our members, but often, they are the ones serving me and teaching me to be more like Christ!What's challenging about serving here?It can be quite discouraging when members don't reply, or when they decide to reject the gospel. Please pray for me—that God will grant me a tireless zeal for the gospel, and to persevere in His work till the day of His glorious return!
---
VOLUNTEER PROFILE: Shem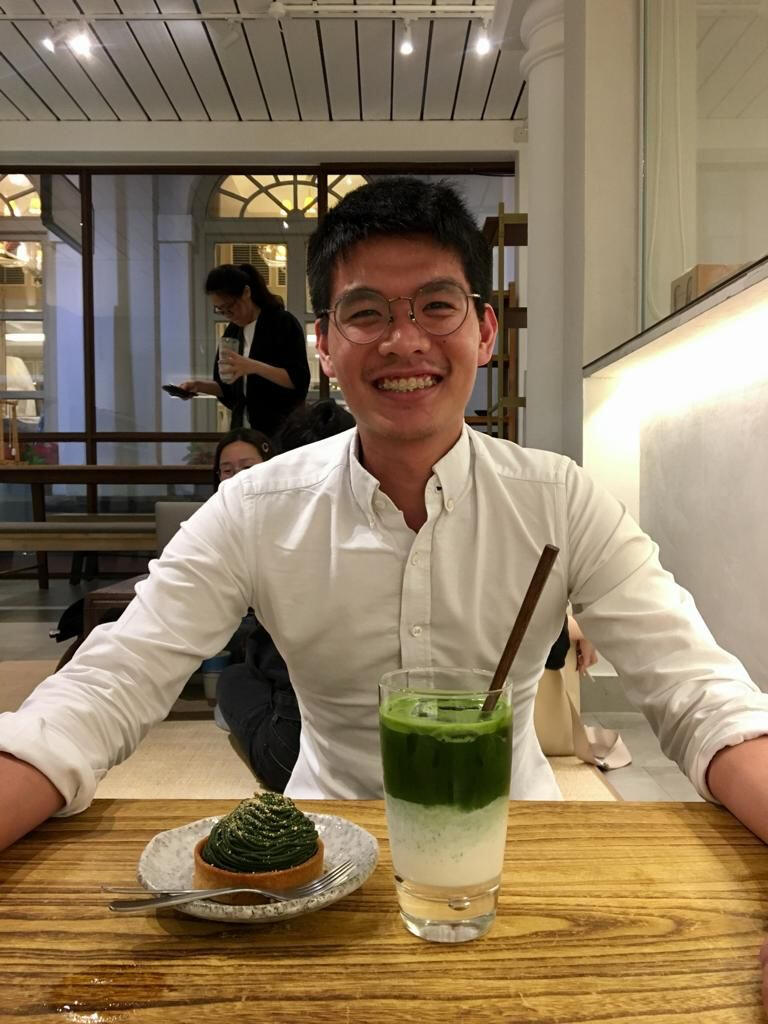 Jesus Club Volunteer: Shem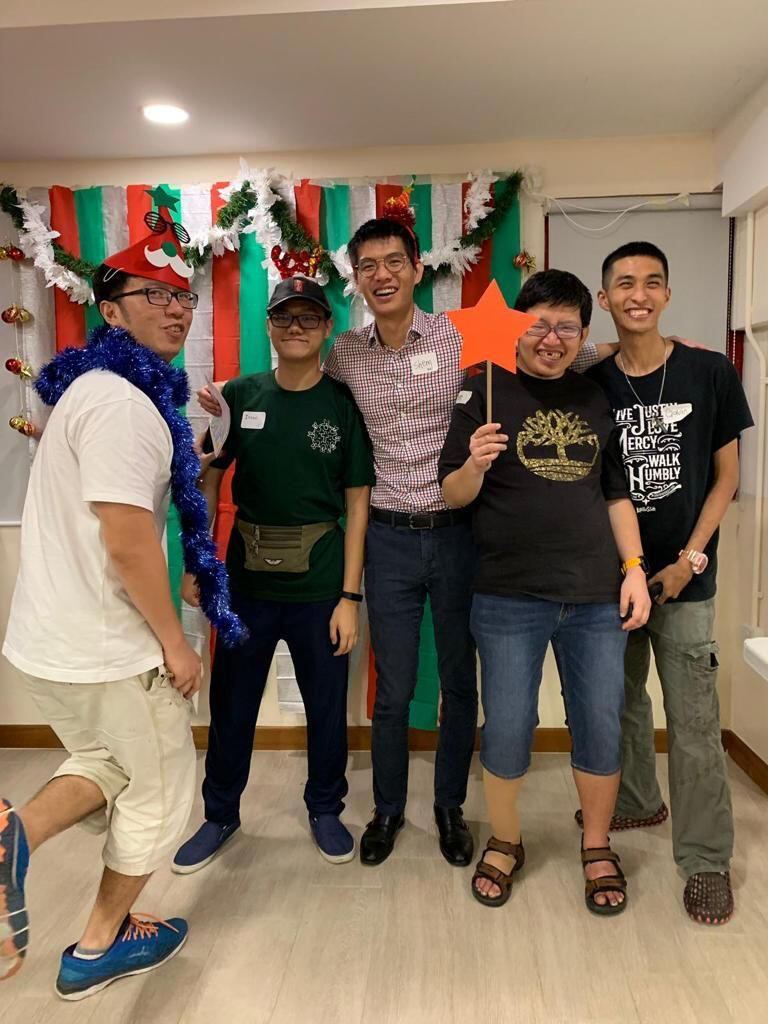 Shem and his Jesus Club small group
How did you first come to know about Jesus Club?I first came to know about Jesus Club from my friends from church – Bethesda Church Bukit Arang (BA). Kevin and Jessica Chow invited me to check out Jesus Club, and I have been there ever since!How long have you been serving in Jesus Club?I joined Jesus Club in 2018, about a year after I joined BA!What do you do at Jesus Club?I serve as a small group leader at Jesus Club. As a group leader, we befriend our members at Jesus Club, go through Bible talks with them, and engage in fun arts & craft or games to reinforce the Bible message. Most importantly, we make our members feel at home! Occasionally, I also give Bible talks or chair our Jesus Club sessions.What do you love most about it?I really love our members and volunteers at Jesus Club. It brings me great joy to engage with our members, to see them grow in their understanding of the Bible and to grow in relationship with one another and with God.I also love seeing how each one of our members has a special gift. For example, we have Ben who is always so cheerful and plays the piano for us every session, or Glen who always asks helpful questions to deepen our understanding of the Bible passage, or Gabriel who never fails to make us smile with his cheerful demeanour. The list goes on and on!I am also very encouraged by our volunteers who put in so much time and effort, week-in and week-out, to teach the Bible to our members and to make them feel loved! My time at Jesus Club has really shown me that the church truly is a family, where every member plays a vital role in the advance of the gospel.What has God taught you through your friends at Jesus Club?God has taught me so much! I am always very encouraged by the kindness and sincerity of our friends. They have taught me how to be more loving, more patient, and more sincere in the way I do or say things. I have also learned so much from the parents of our friends at Jesus Club. They really are the most selfless and patient people that I have ever met and are great role models for me.What's challenging about serving here?I would say that the benefits outweigh the challenges! But sometimes it can be difficult to engage with our friends or to get them to focus on the Bible passage we are reading! At times, it is also hard for us to know if they understand what we are saying and that can be disheartening. In that situation, we need to rely on each other as volunteers, and know that it is God who does the work in our hearts. 😊---Thanks Jeslyn and Shem for sharing your experiences with us!If you are interested to visit Jesus Club or volunteer with us, do email us at [email protected]
Frequently Asked Questions
1. Can I still join if I am not from the church? Yes, we welcome volunteers and members from other churches to join us if you're interested in special needs ministry.2. Can my young adult with special needs join if we are not Christians? Yes, you are very welcome to as long as you don't mind being part of a Christian community.3. Can I visit if I am not a Christian? We welcome you to come and join in our activities.4. How old are the members?Our programme is specially catered to adults 18 and above.5. I know someone who could benefit from Jesus Club, but they are younger than 18. Is it okay for them to join?Our members are generally older, but we are happy for your contact to visit and see if Jesus Club is the right fit for him or her.6. Do you have members who do not go to church?Yes, some of our members are not from Christian families.
Articles
- How do Sunday Schools meaningfully include children with special needs? | Gracia Lee
- How can churches better include people with special needs? | Anna Cheang
- What I learnt from my friends with special needs | Eudora Chuah
Starting A Jesus Club In My Church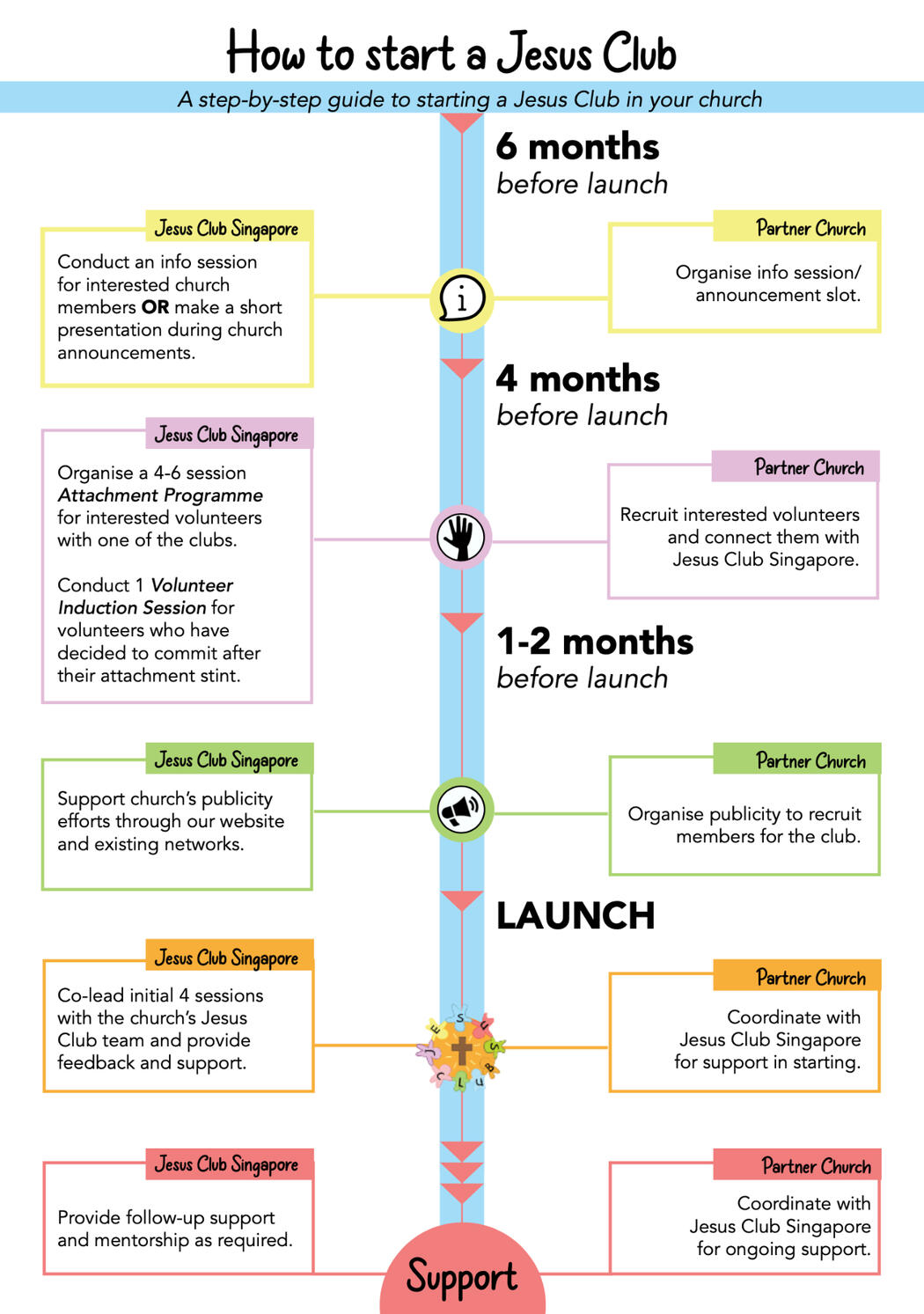 Jesus Club Singapore is committed to supporting disability ministries in the following ways:- Developing Bible teaching resources for persons with ID
- Recruiting and Training Volunteers
- Organising an annual event for caregivers
- Developing publicity for the individual Jesus ClubsIf you're keen to start a Jesus Club or disability ministry in your church, we'd love to partner you!Please send us an email at [email protected] or contact Hannah at 9862 9774.